Australia
Vaccine mandate for high-risk workers, singing and dancing in venues banned, in NSW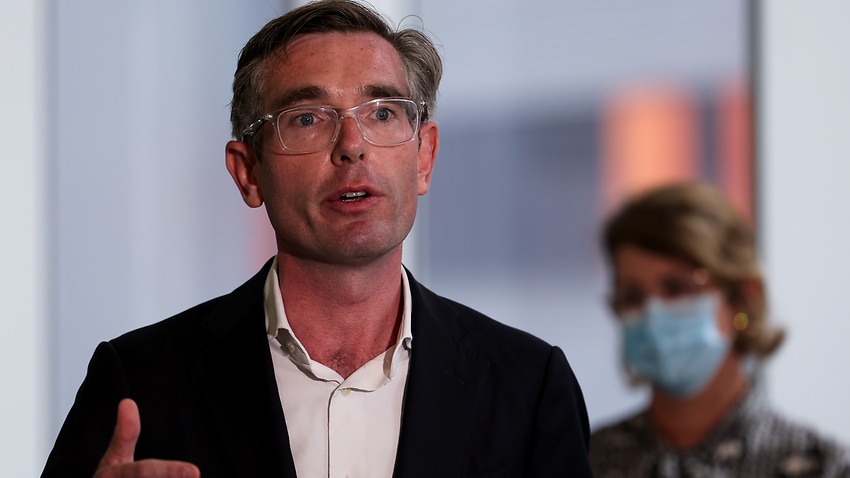 Speaking to reporters, Mr Perrottet said: "Whilst it will be a difficult few weeks in NSW, our people and the effort we have made to go out, to get vaccinated, to get boosted, has been key to opening up our society, to living alongside the virus.
"This is a challenging time, not just in NSW, but around the world, that the efforts that our people have made has kept NSW safe, as kept NSW open, and kept NSW strong."
The Premier said boosters will soon become mandatory for those working in high-risk settings.
"That announcement today will ensure that whether it's our teachers, nurses or frontline health disability workers … we will move to boosters [to be] included as part.. of a fully-vaccinated determination," he said.
On the ban on singing and dancing, which starts on Saturday and will run until 27 January, Mr Perrottet added: "That does not include weddings or performances or classes."
It comes as NSW has hit a record 1,738 hospitalisations from COVID-19 – a jump from 1,609 in the previous reporting period.
There are 134 people in intensive care, three more than what was reported on Thursday, NSW Health said on Friday.
Meanwhile, case numbers continue to balloon in NSW, with the state reporting 38,625 infections and 11 fatalities on Friday.
That's 3,631 more than the previous day's record of 34,994 cases.
Modelling shows stark rise in hospitalisations
NSW Health has released research that predicts 6,000 people could be hospitalised with COVID-19 by the end of the month, if the worst-case scenario modelled by health authorities eventuates.
Taking into account the general health of NSW's population, the state's vaccination rates and new data on the severity of Omicron infection, three scenarios were mapped.
COVID Update, singing and dancing banned in NSW
---
The worst of them predicts 6000 people could be hospitalised with COVID-19 at the peak of the outbreak, expected in the third or last week of January.
Some 600 of them would be in intensive care.
The more conservative "most realistic" model predicts 4700 beds will be needed for COVID-19 patients at the peak, 273 of them in ICU.
In the best-case scenario, only 3158 people will be hospitalised and the number in ICU will peak at 270.
Victoria records 21,728 new COVID-19 cases
A hotline and online reporting have opened for Victorians who test positive to a COVID-19 RAT to report their "probable" case.
It is mandatory to report positive RAT results from Friday, a day when the state recorded 21,728 new cases from 68,202 tests through the PCR lab test system.
Another six people have died and hospitalisations have again increased to 644 people. There are 58 active cases in intensive care and 24 on ventilation.
Anyone who receives a positive RAT must isolate for seven days and notify their contacts. They will receive the same clinical and financial support as PCR confirmed cases.
Restrictions have also been reintroduced in the state, including density limits of one person per two square metres for indoor hospitality and entertainment venues.
Infections grow in Queensland, Tasmania, ACT 
Queensland recorded 10,953 new infections and zero deaths on Friday – a jump of 621 cases, from the previous day. 
There are 313 people in hospital, 29 more patients than on Thursday.
Fourteen people are in ICU, one more than the previous 24 hours, with three patients on ventilators.
The boom in cases comes as Queensland Premier Annastacia Palaszczuk said there will be no return to primary school at the peak of the Omicron wave.
"We are looking at the option of delaying the return to school," she told reporters on Friday.
Ms Palaszczuk also said the Queensland government has set up a hotline for collecting positive RAT data.
Meanwhile, Tasmania has recorded a four-digit coronavirus daily case figure for the first time, with the island state reporting 1,489 new infections.
The number, almost double the 751 cases reported on Thursday, brings the number of active infections to 4,681.
Three cases are being treated in hospital specifically for COVID-19 symptoms, while a further five people are in hospital for unrelated conditions.
The Northern Territory has recorded 412 new cases of COVID-19, including 70 of community transmission.
There are currently 19 people in hospital and two in ICU. 
NT Health Minister Natasha Fyles said the virus has reached every region of the territory.
"We have got 1,200 active cases of COVID-19 in the Northern Territory," she said.
"It is fair to say that we have COVID in every region of the Northern Territory and so people when they leave their home, or they have visitors to their home, they should be prepared that they're at risk from coronavirus."
And in the ACT, case numbers have surpassed 1,000 for the first time since the pandemic began.
The rise in case numbers also coincides with a rise in the number of hospitalisations from the virus, which now stands at 24.
Intensive care patients have also risen in the past day, increasing to three, with all of them being on a ventilator.
ACT health officials said there were 3,347 negative tests recorded at government PCR testing clinics in the 24 hours to 9am on Friday.
South Australia reported 3,707 new cases and two deaths and Western Australia reported a locally acquired Omicron case as authorities said a mask mandate would be eased from Friday evening. 
With additional reporting by AAP
File source