Australia
Thousands of 'freedom' marchers rally in Melbourne after passage of pandemic laws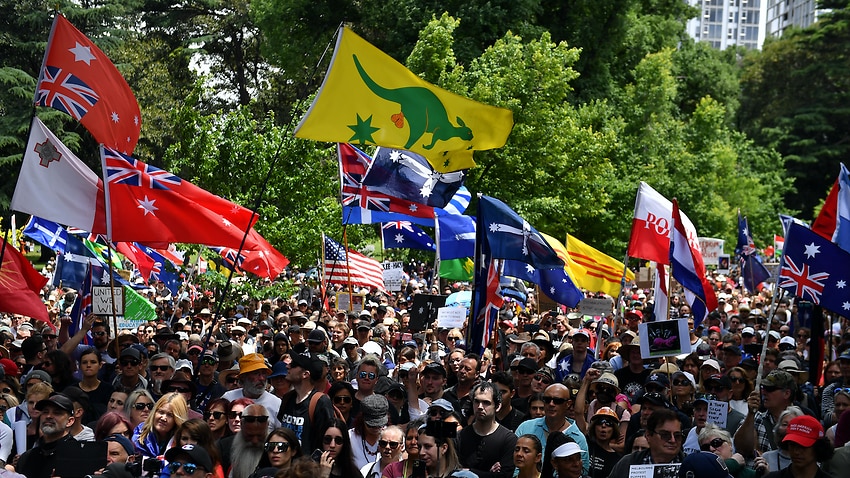 Ex-Liberal MP turned United Australia Party leader Craig Kelly was among the key speakers at the protest.
Crowds danced at Treasury Gardens to the Twisted Sister song "We're Not Gonna Take It", which got the UAP in trouble in 2019 when it was used for political advertising.
Mr Kelly said he was unable to hire a rental car at Melbourne airport because he refused to show his COVID-19 vaccine certificate.
"I am no longer in a great city, I am here in a fascist medical state," the NSW-based MP yelled.
MP Craig Kelly speaks to the crowd in Melbourne Source: AAP
---
The crowd then moved to the front of Flinders Street Station, bringing traffic to a standstill as police watched on.
Protesters later headed for the ABC's headquarters in Southbank, where they chanted "tell the truth" while cheering and waving flags.
As police formed a line in front of the building, protesters asked to speak with the company's managing director Ita Buttrose, who lives in Sydney, "about the funding arrangements for the ABC".
'Freedom' rallies against lockdowns, vaccine mandates and the pandemic laws have become commonplace in Melbourne over recent months.
Participants of the protests have included members of neo-Nazi organisations and far-right conspiracy groups.
A counter-protest against the far-right elements of the 'freedom' protest movement also took place on Saturday.
Members of the Campaign Against Racism & Fascism posted social media videos of the group chanting "unite to fight the right" as they marched through the Melbourne CBD. 
The Andrews government's controversial new pandemic legislation, which passed parliament on Thursday, makes the premier and health minister responsible for declaring pandemics and making health orders.
The legislation will replace the existing state of emergency on 16 December and makes Victoria the first state in Australia with pandemic-specific laws.
Victorian Health Minister Martin Foley earlier on Saturday said the 'freedom' demonstrators were complaining about aspects of the laws that had already been altered.
He said protests "should be peaceful" and "based on up-to-date information and facts".
"What we now have is a set of legislative arrangements that allow a balance between the public health response that keeps us safe and open, with a protection mechanism for human rights and the voice of people who have any concerns," he told reporters.
Thirty-nine COVID-19 cases have now been linked to November protests in Melbourne, only one of which was fully vaccinated.
Three people have been admitted to hospital and one is in intensive care, while 14 cases have been confirmed to have attended while infectious. 
Victoria recorded another 1,365 COVID-19 infections and nine deaths on Saturday.
With AAP.
File source