Australia
Thousands in Melbourne march in opposing protests after passing of pandemic laws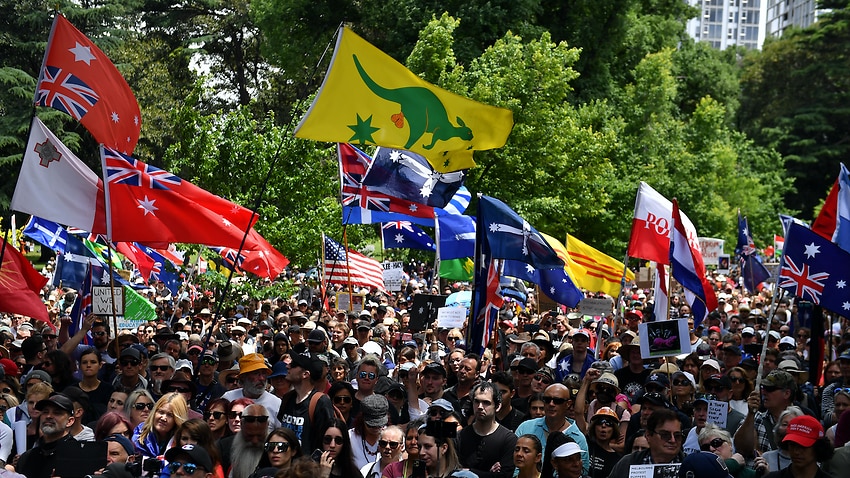 Ex-Liberal MP Craig Kelly, now a United Australia Party representative, was promoted as a speaker at the protest.
Over the past few months, there have been almost weekly demonstrations in Melbourne against vaccination mandates and the pandemic laws.
There have been concerns that some protesters are members of neo-Nazi organisations or have links to far-right conspiracy groups.
A counter-protest against far-right elements of the 'freedom protest' is also underway.
Members of the Campaign Against Racism & Fascism posted social media videos of the group chanting "unite to fight the right" as they marched through the CBD.
The Andrews government's controversial new legislation, which passed parliament on Thursday, makes the premier and health minister responsible for declaring pandemics and making health orders.
The legislation will replace the state of emergency on 16 December and makes Victoria the first state in Australia with pandemic-specific laws.
Victorian Health Minister Martin Foley on Saturday said the anti-government protesters were angry about aspects of the pandemic laws that had already been altered.
Protests "should be peaceful" and "based on up-to-date information and facts", he said.
"What we now have is a set of legislative arrangements that allow a balance between the public health response that keeps us safe and open, with a protection mechanism for human rights and the voice of people who have any concerns," he told reporters.
Victoria announced 1,365 new COVID-19 infections and a further nine deaths on Saturday.
The state continues to manage almost 14,400 active coronavirus cases. There are 288 virus patients in Victorian hospitals, 44 of them in intensive care and 20 requiring ventilation.
Health authorities say virus testers managed to process 67,545 results in the 24 hours to Friday evening.
Ninety-one per cent of people aged 12 or older in Victoria are fully vaccinated.
With AAP.
File source