Australia
There's a faster and easier way to get tested for COVID – so why isn't Australia using it?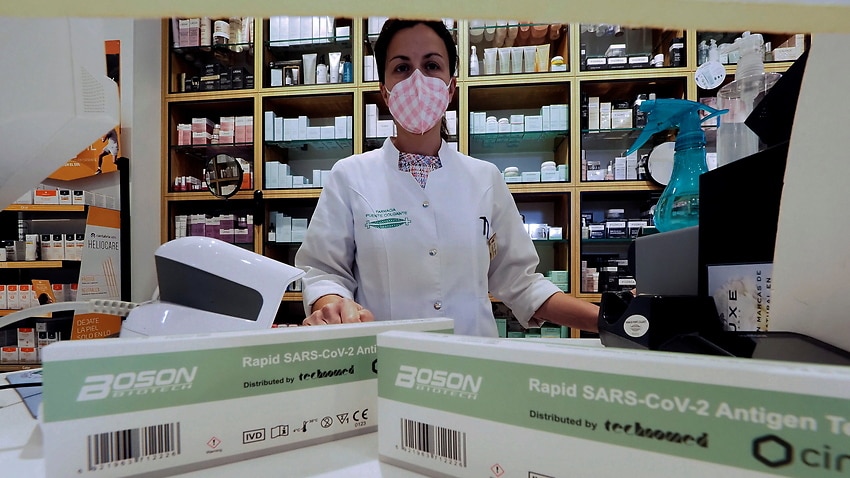 Across Europe, the United Kingdom and the United States, a simple test that can be bought at supermarkets, pharmacies and even petrol stations is helping countries deal with the COVID-19 pandemic.
But in Australia, the debate about rolling out rapid antigen tests is only just beginning.
With New South Wales currently testing more than 90,000 people a day in a bid to track the Delta variant's spread, health authorities are still hampered by the time it takes to get test results.
The state recently announced it will trial rapid testing at high-risk places like work sites and high schools – but not yet at aged care centres or hospitals.
What are rapid antigen tests?
To put it simply, they're cheaper, but less reliable.
Australia has so far mostly used polymerase chain reaction (PCR) tests, involving a nose and throat swab but results can take one to two days.
Unlike PCR tests, which search for genetic material from the virus, rapid antigen tests detect proteins on the surface of the virus and can produce a result within half an hour.
A study from the Doherty Institute found rapid antigen tests had picked up all COVID-19 cases among people who had symptoms in the previous seven days but was less accurate in returning positive cases for people with lower viral loads.
Rapid antigen tests are overall less sensitive and so less reliable than PCR tests which can lead to false negative results.
Dr Peter Collignon, from the Australian National University, says it works very differently to the PCR nasal swab, and can be taken at home, with results in just 15 minutes.
"Rapid antigen testing is looking at a part of the outside of the virus rather than the genetic material," he told SBS News.
"It's not too dissimilar to what we use for pregnancy tests, for instance, where you have a filter paper, essentially, and you see a line that comes up if you have the right reaction there."
So what's the concern?
A study led by Oxford University found rapid tests can be up to 95 per cent accurate for symptomatic cases.
But that rate drops to less than 60 per cent for people showing no symptoms.
Australian pathologists believe its true accuracy is actually much lower.
Dr Lyn Waring, the chair of the Royal College of Pathologists of Australasia, warns that the higher a community's infectious rate is, the less reliable rapid tests become.
"If we were to use them, and we assume our prevalence in Australia happened to be about 0.5 per cent, and I'm hoping it doesn't get to that level, but if it ever did, the worry would be that you would actually have false-positives," she said.
"So you would get an extra seven-in-ten to nine-in-ten that the test would call positive that actually aren't positive."
How can Australia use it?
Dr Collignon sees that it would eventually be used in a complementary fashion to the nasal swab.
"We've got to remember this is an additional thing, not a substitute for the PCR test," he said.
"If we really want to find all the cases and make sure they're quarantined, isolated, PCR is what we have to rely on. But for instance, this can be a way of getting a rapid result while you're waiting for the PCR test."
But Dr Waring believes at this stage the science is not yet decided – and the tests should not yet be introduced.
"In a closed population, there may be ways of using them – and I know we are looking at that, and we should be look at that – but we shouldn't just let the gate open and let the horses go out in the paddock because we don't know what's out there," she said.
"We need to be cautious, we need to be very, very evidence-based, follow what we learn. We can't take chances in this pandemic."
What is the government saying?
Federal Liberal and Labor MPs have called for the tests to be introduced for frontline workers.
While some of the tests are approved by the Therapeutic Goods Administration, Australia's leaders are still hesitant to rely on them, even partly – for now.
Federal Finance Minister Simon Birmingham says rapid testing would not replace PCR testing but "complement" them.
"We'll continue to look very carefully at how these sorts of tests can be used effectively," he said.
"And we're seeing that as New South Wales looks at it, whether it's in relation to schools or potentially other workplace settings."
Senator Birmingham said about 18 different rapid antigen tests have been approved by the TGA for use in Australia.
"As a government, we've used them in aged care settings. We're using them in relation to people who were returning from India as pre-flight testing capabilities. I know the New South Wales government is looking at using them in a range of different settings as well."
– With AAP