Australia
Linda Reynolds admitted to hospital, cancels National Press Club appearance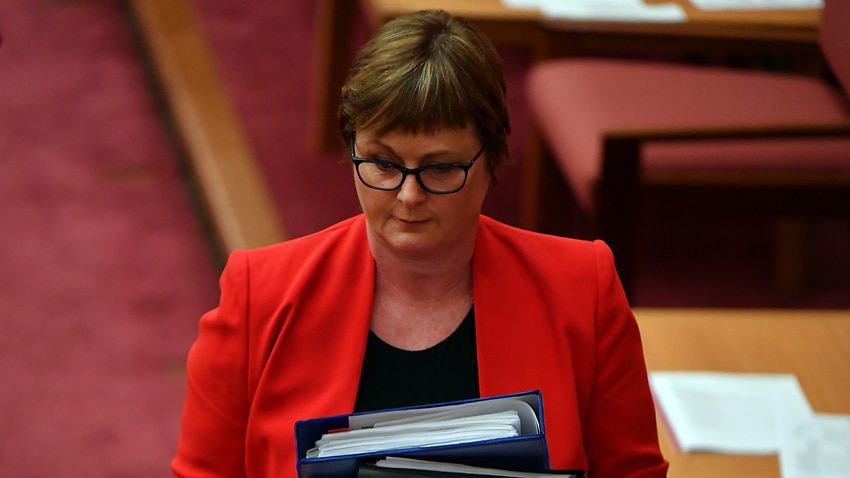 Defence Minister Linda Reynolds has been admitted to hospital and taken medical leave amid pressure over her handling of the rape allegation made by former political staffer Brittany Higgins.
Senator Reynolds was due to give a much-anticipated speech at the National Press Club in Canberra on Wednesday, where she was expected to face questions from journalists over her handling of Ms Higgins' complaint.
Ms Higgins alleges she was raped by a male colleague inside the ministerial office of Senator Reynolds in March 2019, after security guards let the pair into Parliament House. 
A statement from Senator Reynolds' office said she had been admitted to a Canberra hospital following advice from her cardiologist relating to a pre-existing medical condition. 
Senator Reynolds has faced scrutiny over her response to Ms Higgins' allegations, including when she found out about the complaint and who else she told about the incident. 
This includes Senator Reynolds' decision not to notify Prime Minister Scott Morrison – who claims he only became aware of the alleged incident last Monday. 
Senator Reynolds has apologised to Ms Higgins for her handling of the complaint. 
She has also expressed regret for holding a formal employment meeting with Ms Higgins in the same room the alleged rape occurred following the incident. 
Senator Reynolds has repeatedly said she believed she was acting in Ms Higgins' interest saying she wanted to respect Ms Higgins' privacy. 
Health Minister Greg Hunt told reporters Senator Reynolds was "desperate to appear" at the National Press Club event. 
"It was only on the strongest medical advice that she took the reluctant decision not to do it," he said on Wednesday.
"I would very gently counsel anybody who might reflect other than on somebody's medical condition.
Mr Morrison has called Senator Reynolds to express his concern and sympathy, and to wish her a speedy recovery.
Foreign Minister Marise Payne will act in the role until Senator Reynolds returns from leave.
Ms Higgins is expected to give a formal statement to police on Wednesday to reactive an investigation into her complaint. 
She claims she felt pressure at the time to not take the matter further with police over concerns that doing so would impact her career.
Three more women have come forward saying they were also assaulted or harrassed by the alleged perpetrator. 
File source