Australia
Anthony Albanese says future of cabinet minister at centre of historical rape allegation is up to the PM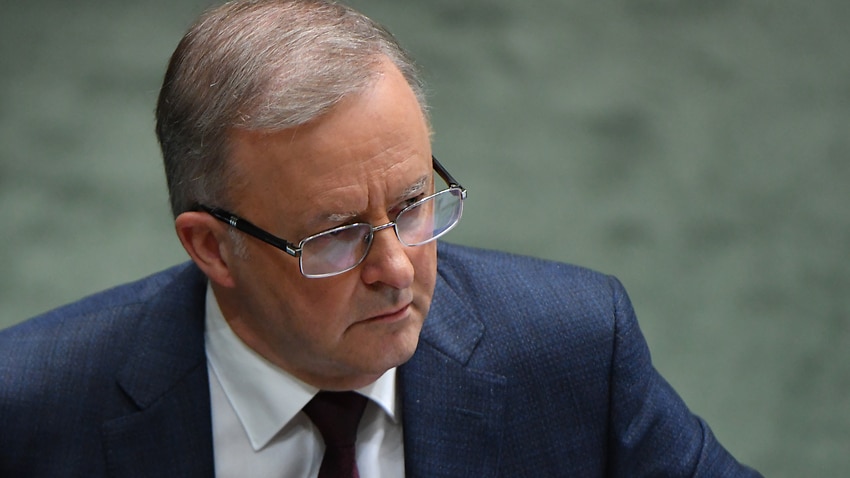 Anthony Albanese says Prime Minister Scott Morrison must "satisfy himself" over whether a minister at the centre of a historical rape allegation should remain in cabinet.
Speaking on the ABC Insiders program on Sunday, the opposition leader called for "transparency" and "common decency to shine through" in relation to the handling of the allegation.
"We need to make sure that these serious allegations … are investigated appropriately, and that these issues aren't politically managed," he said.
"This is a real test. And the prime minister must confirm to himself that it remains the case that the minister, who is the subject of these allegations, that it's appropriate for him to stay in his current position."
Labor Senator Penny Wong and Greens Senator Sarah Hanson-Young have both confirmed they received an anonymous letter relating to the allegation.
In a statement released on Saturday afternoon, Senator Wong said she first became aware of the allegation when she ran into the complainant in Adelaide in November 2019.
"The complainant made an allegation that she had been raped many years earlier by a person who is now a senior member of the federal government. She indicated she intended to report the matter to NSW Police," she said.
"I said that making a report to the appropriate authorities was the right thing to do. I facilitated her referral to rape support services and confirmed she was being supported in reporting the matter to NSW Police."
NSW Police says the correspondence relates to a report of allegations of historical sexual violence received in February last year.
Its investigation was suspended when the 49-year-old woman at the centre of the allegations died.
"The death of the woman who made this allegation is a tragedy and devastating for everyone who knew and loved her. The woman, and her family and friends, have been in my thoughts throughout," Senator Wong said.
Both senators have referred the letters to the Australian Federal Police (AFP).
Mr Albanese said Senator Wong did not pass on the allegations to him, saying he had been aware of "rumours" in Canberra for some time. He said he believed Senator Wong "acted appropriately".
The opposition leader said the allegation needs to be investigated by authorities, but was not drawn on what actions should be taken against the cabinet minister nor how Mr Morrison should act.
"I'm saying it's a matter for the prime minister. I don't seek to politicise this issue. What I say is the prime minister must satisfy himself that the current circumstances are appropriate," he said.
"It's his responsibility – he solely appoints the cabinet. He must assure himself that it's appropriate that the current make-up of the cabinet can continue."
Senator Hanson-Young has also urged Mr Morrison to take action over the allegation.
"The information that I was given and that I forwarded to the police is the same information that the prime minister has. He needs to make a judgement as to what he will do," she said on Saturday.
"The prime minister needs to say something and he needs to do something. We can't have a situation where such an horrific allegation of rape is levelled against a member of his government, and no one does anything."
Greens leader Adam Bandt urged Mr Morrison to conduct his own independent inquiry into the allegations.
"There is now a dark cloud over the Cabinet and the government," Mr Bandt said in a statement.
"We need to make Parliament a safe place for women.
"These are extremely serious and shocking allegations that should be investigated to the fullest possible extent."
The allegation was reported after a parliamentary sitting fortnight that was dominated by an alleged sexual assault on former Liberal staffer Brittany Higgins by a male colleague.
Mr Albanese said after a "very difficult fortnight", Australians will be looking for "common decency to shine through".
"This is a moment whereby Australians will be looking for … an appropriate response that isn't about political management, that is about transparency and making sure that processes are respected," he said.
Asked about the allegations during a Sunday press conference, Health Minister Greg Hunt said the matter should be left to police.
"The AFP Commissioner was very very clear that these are matters for police, and strongly discouraged commentary on those matters," Mr Hunt said.
"The police always have been, currently are, and always will be the appropriate body for investigate matters of alleged criminality."
Federal government frontbencher Simon Birmingham also said it was a police matter.
"Everybody is entitled to natural justice and it's important to back the police to do their job," he said during a Saturday press conference in Adelaide on Saturday.
"We back the police to do their job in this and every other instance.
"I don't wish to see anybody lose their rights to natural justice."
Mr Morrison released a statement on Friday night saying, "any allegations of this nature made to anybody – whether they're parliamentarians or journalists – should be referred to the AFP".
The AFP issued a statement on Saturday saying it has received a complaint relating to an historical sexual assault and will liaise with relevant state authorities.
If you or someone you know is impacted by sexual assault, you can call 1800RESPECT on 1800 737 732 or visit 1800RESPECT.org.au.
Here's where else you can find SBS News content and follow us:
SBS News website: Save our website sbs.com.au/news as a favourite. 
File source