Food
The most followed celebrity spirits brands – The Spirits Business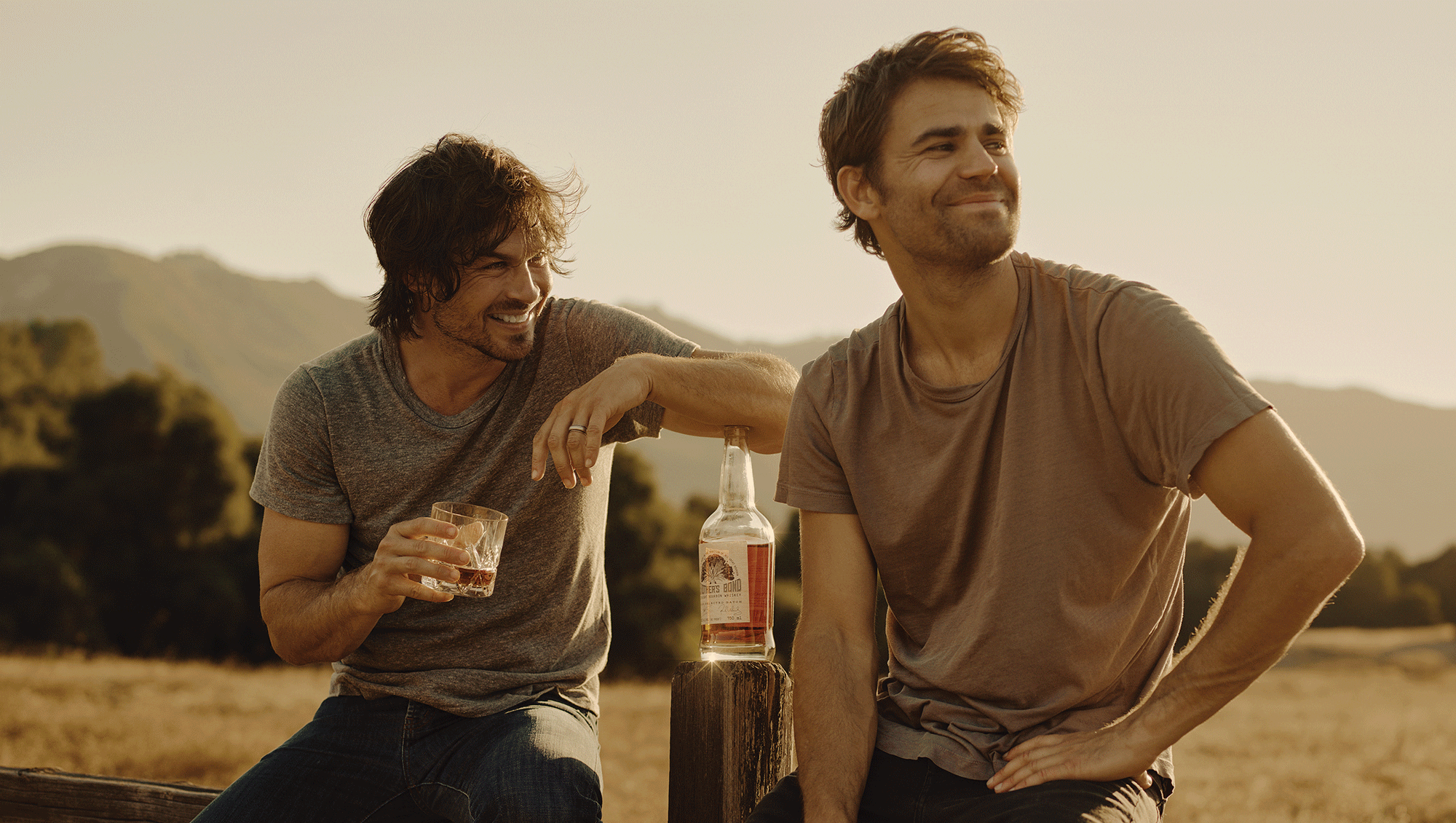 Want to discover which celebrity spirits have received the most attention online? We've rounded up the top seven brands launched by big names, according to their social media follower count.
Trends come and go, but stars venturing into the spirits industry and launching their own alcohol brands seems to remain a constant. High-profile names have been attaching themselves to the likes of gin, Tequila, and vodka for a while now, and their businesses have gained a cult following – some more than others. 
We've rounded up the brands which have performed best on social media, gaining the most followers on platforms Facebook and Instagram combined. Research was carried out by alcohol stockist Drink Finder.
Keep scrolling to discover which celebrity-launched spirits brands ranked highest. 
---
Follower count:
357.9k
Diageo signed former England football player and OBE David Beckham in 2014 to debut Scotch whisky brand Haig Club, alongside music mogul Simon Fuller. The brand ranks in seventh place against other celeb-owned spirits bottlings, having gained a total of 357,900 followers across the board since its launch. In April this year, the new Haig Club Mediterranean Orange was released in the UK. In 2020, the brand also unveiled its ready-to-drink cans.
---
Follower count:
376k
Hollywood actor Ryan Reynolds keeps his fingers in multiple pies, with one of his ventures including Wrexham AFC – the football club he co-owns with It's Always Sunny in Philadelphia star Rob McElhenney – which occasionally collaborates with Aviation Gin.
Reynolds invested in the brand in 2018, and in 2020 it was acquired by Diageo in a deal with up to US$610 million. Reynolds' fanbase clocks in at 376,000 followers across Instagram and Facebook. 
---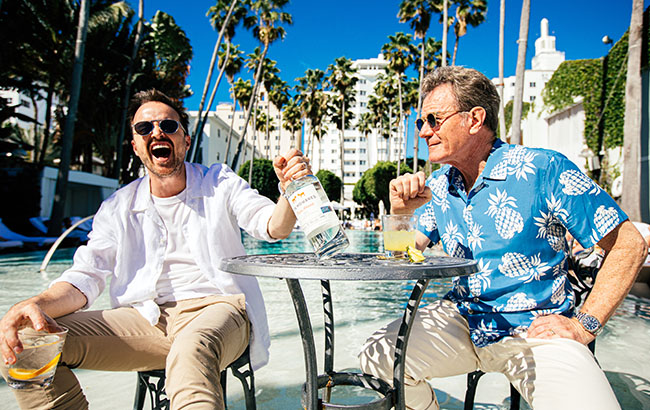 Follower count:
385k
The stars from TV series Breaking Bad announced the launch of their mezcal brand on social media in July 2019, and have since gathered a community of 385,000 followers. Recently, Constellation Brands acquired a minority stake in Dos Hombres for an undisclosed sum.
The liquid is made in the village of San Luis del Rio, Oaxaca, by third-generation mezcal maker, Gregorio Velasco.
---
Follower count: 722
k
Keeping Up with the Kardashians reality star Kendall Jenner launched her 818 Tequila brand earlier this year, and is unsurprisingly making waves across social media platforms.
The Tequila brand has accumulated a following of 722,000, and partnered with industry nonprofit Sacred Agave in October to found the 818 Bricks Program. The initiative turns post-production agave fibres into bricks that can be used to build houses, schools and more.
Jenner is rapidly building the brand, and recently created a range of merchandise, with sales 'helping to support sustainability efforts'.
---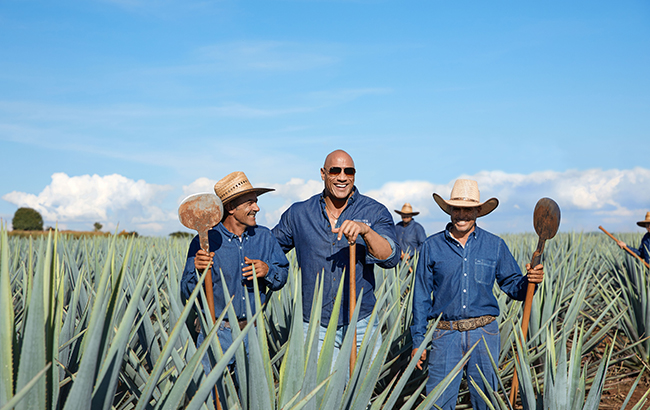 Follower count: 856
k
The Rock has conquered a number of ventures – from wrestling to music to film. Now, he has emerged successful with the launch of his Tequila brand, along with his business partners Dany Garcia, Ken Austin and Jenna Fagnan.
Almost one year after its launch in 2020, Teremana Tequila announced it was expanding its production capacity as it targeted one-million-case sales in February this year. This was followed by the unveiling of a branded tour bus – called the Mana Mobile – and more marketing investment: the brand aired an advert during the Super Bowl, pledged US$1m to the on-trade through its 'Guac on the Rock' campaign, and created the 'Bring the Mana' line of merchandise, featuring t-shirts, hoodies, hats and zip-up sweaters ​​adorned with the Teremana Tequila logo. The brand's latest move is adding to the Tequila range, with a Teremana Añejo bottling.
Two years of activity has gained Teremana Tequila 856,000 followers on social media.
---
Follower count:
1.09m
Rapper Sean 'Diddy' Combs was early to the spirits game, having entered into a strategic alliance with Diageo in in October 2007.
The venture resulted in Combs becoming the brand ambassador for ultra-premium vodka Cîroc through Combs Enterprises. 
By 2014, the brand was selling more than two million cases per year. Recent activity includes rolling out a limited edition white grape flavour, donating US$1 million to a nine-hour online dance-a-thon hosted by Combs, and releasing Cîroc Pomegranate earlier this year. 
---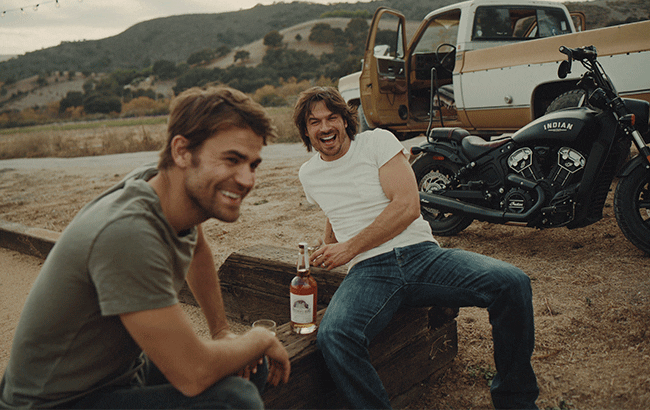 Follower count: 1.76m
Vampire Diaries stars Ian Somerhalder and Paul Wesley discovered their mutual love of Bourbon and launched Brother's Bond together this year. The brand saw the 'most successful pre-sale launch' in the history of Reserve Bar, and expanded its US availability as a result.
The name of the brand is a nod to the actors' former roles in supernatural drama The Vampire Diaries, where they played brothers, as well as their shared love of Bourbon and the 'brotherhood they have formed over the years'.
Last month, the pair donated US$50,000 to non-profit organisation Kiss the Ground, which seeks to reverse climate change through regenerative agriculture.
Somerhalder and Wesley claim the prize of being the most followed celebrity alcohol brand, with their Bourbon brand follower count clocking in at 1.76m. 
The Spirits Business recently caught up with the duo to find out about their plans for the brand.