Entertainment
Pamela Anderson: The ups and downs of her iconic 30-year career
Pamela Anderson got her start in showbiz in a pretty unique way – by appearing on the Jumbotron at a football game in Canada in 1989.
She was wearing a Labatt's Beer T-shirt, and the company liked what they saw. They briefly hired her as a spokesperson and, a few months later, she was featured as a model on the cover of Playboy magazine.
From there, she was selected as the February 1990 Playmate of the Month and her career took off.
READ MORE: Who is Brandon Thomas Lee? 5 things to know about Pamela Anderson and Tommy Lee's son
The rise of Pamela Anderson
The next 30 years saw a slew of iconic movie and TV roles, countless magazine covers, and stints on various reality shows, cementing her as nothing short of a Hollywood A-List icon.
Even now, at age 54, Anderson still holds the record for most-ever Playboy cover appearances.
READ MORE: Baywatch cast: Then and now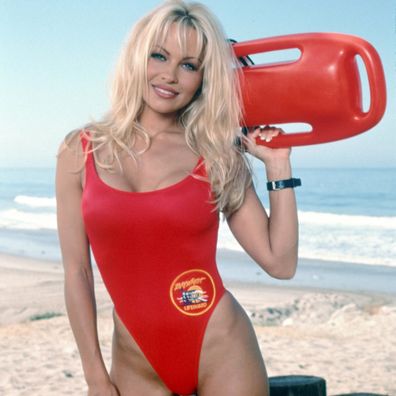 A few months after her Playboy debut, Anderson moved to Los Angeles to pursue an acting career. She rose to prominence with her role in the first two seasons of Home Improvement, but it was her appearance on TV series Baywatch that got international attention and cemented her status as a sex symbol.
Anderson played lifeguard C. J. Parker for five years from 1992 to 1997. During that time, she also had various roles in films and music videos, and truly became a household name.
After leaving the show she quickly found another TV role, in the action-comedy series V.I.P. It followed the sometimes-treacherous lives of the rich and famous, with Anderson poking fun at her supposed 'trashy' and 'dumb' tabloid image.
"I love the dumb blonde image," Anderson told People in the early '90s. "Then I have nothing to live up to. I can only surprise people."
Love and marriages
In 1995, Anderson wed Tommy Lee, drummer of Mötley Crüe, on a Mexican beach while wearing a white bikini. The pair had only met four days prior to their wedding. Not only was her mum not invited, but she learned of the nuptials through a magazine.
The couple went on to have two kids, Brandon and Dylan, but divorced in 1998.
READ MORE: A look at the most iconic celebrity couples from the 1990s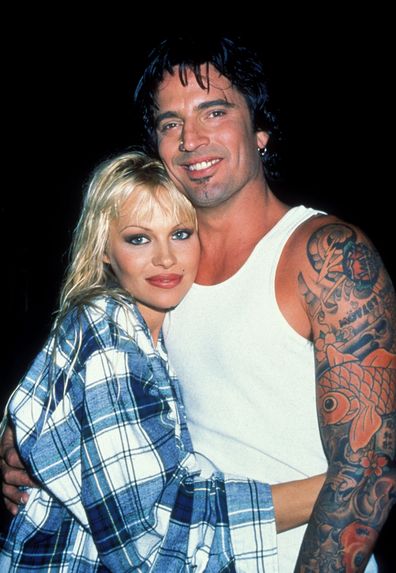 After Lee, Anderson was engaged to model Marcus Schenkenberg, but they broke up after three years together. Shortly after, she announced her engagement to Kid Rock – the couple split but reunited and married in 2006.
There was a lot of speculation that they wed because Anderson was pregnant, a rumour she refused to address. A few months after the wedding, it was announced she suffered a miscarriage while shooting the film Blonde and Blonder. Less than three weeks later, she filed for divorce from Kid Rock.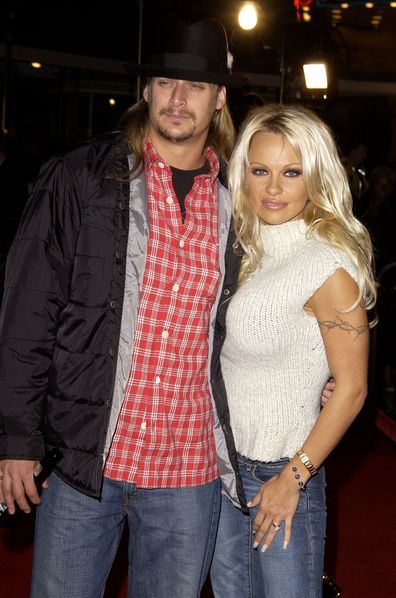 Anderson married again in late 2007 to poker player Rick Salomon (best-known for his 2004 sex tape with then-girlfriend Paris Hilton), but their marriage was annulled by January 2008. In 2014, Anderson announced that she and Salomon had remarried, but filed for divorce 13 months later.
Five years later, in January 2020, the actress married Hollywood producer Jon Peters in a secret Malibu ceremony. Despite sources saying that she was very much in love, they announced their split just 12 days later.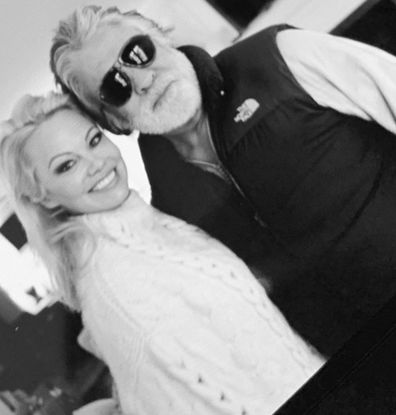 That September, Anderson addressed this marriage on her Twitter page, saying the pair were never legally wed.
"No hard feelings – no Marriage, no Divorce…just a bizarre theatrical lunch," she wrote of her relationship.
Her sixth marriage came on Christmas Eve 2020 when she wed Dan Hayhurst, her bodyguard. However, in January 2022, it was reported that they'd split.
Pamela Anderson: The author
Not many people know that Anderson actually penned two novels in the '00s.
In 2004, she released a book titled Star, co-authored by Eric Shaw Quinn, about a small-town teenager who wants to become famous and ends up being a sex symbol. Sounds like a familiar story, but Anderson said that the idea was her publisher's.
"Simon & Schuster came up with the idea, actually," Anderson told People. "They said, 'Do you know what a 'roman á clef' is?' I go, 'Who's that?' They said, 'Something inspired by your life.' So I started writing."
In 2005, she released a sequel titled Starstruck: a thinly veiled exposé of her relationship with Tommy Lee.
Controversial times
Despite her numerous career wins, Anderson is perhaps most widely associated with her sex tape. Like many other female celebs who have had their personal sex tapes leaked (Kim Kardashian and Paris Hilton), Anderson's explicit home video is unfortunately one of the most-remembered aspects of her career.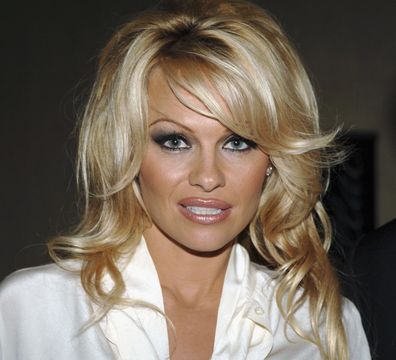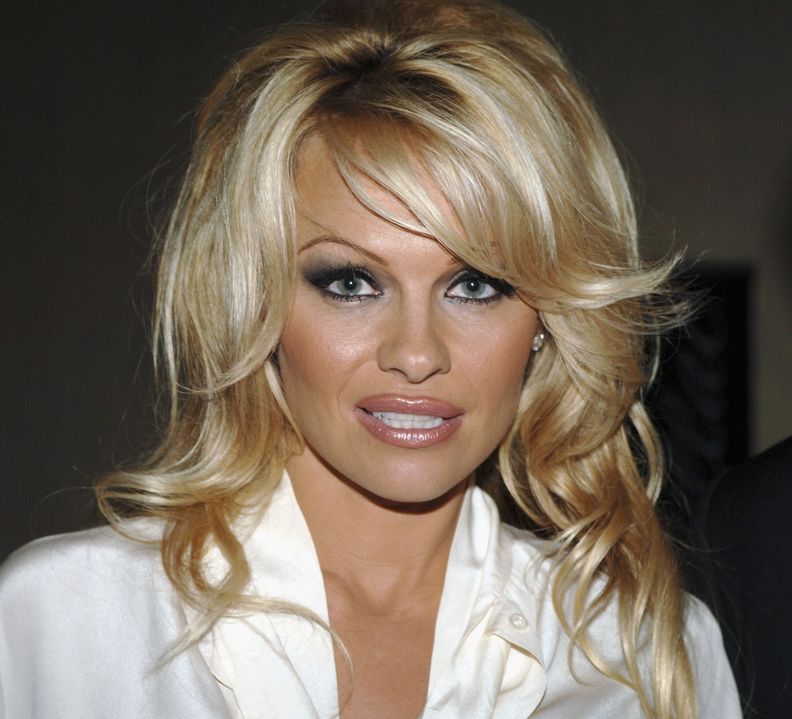 A tape of Anderson and her then-husband Tommy Lee on their honeymoon was stolen from their house in 1995 and widely distributed both online and as physical copies. Despite the pair trying desperately to take down the video, it just spread too fast too quickly.
According to Rolling Stone, the tape made an estimated US$77 million (approx. $105 million) in less than 12 months on legitimate sales alone. Anderson and Lee had no choice but to settle and sign over the copyright to Club Love, the porn site that was streaming it online.
The full story of the sex tape, how it came to be and how it was leaked, was detailed in the 2022 miniseries Pam & Tommy. Despite the show's producers trying to contact Anderson to get input and permission, she reportedly never returned their calls.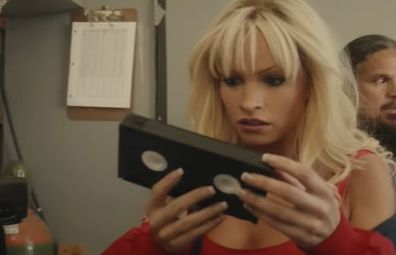 Surprising stints on reality TV
Though the actress had a healthy number of acting roles through the '90s, '00s and beyond, there's no denying her affinity for reality TV.
There were three stints on Dancing With The Stars (once in France), one appearance on an Argentinian dancing competition, one season on Dancing On Ice, and a whopping four Big Brother seasons (in India, the UK, Bulgaria and Germany).
It's been reported that for her three-day session in the Indian Big Brother house, she was paid half a million dollars.
'Not a victim, but a survivor'
And now she's also ready to tell her side of the story, her way.
In March 2022, she announced via Instagram that she has a new documentary coming to Netflix, detailing the real story of her life.
Anderson announced the news on social media saying that she's "not a victim, but a survivor… and alive to tell the real story".
The yet-to-be-titled documentary will feature exclusive access to Anderson, as well as archival footage and her personal journals.
Anderson's journey is far from over. And we can't wait to see what she does next.
For a daily dose of 9Honey, subscribe to our newsletter here.