Entertainment
Cardi B gifted a new mansion from husband Offset for her 29th birthday
Cardi B is praising her husband after he bought her a new house for her 29th birthday.
On Tuesday, the 'WAP' rapper revealed her husband Offset had purchased a mansion as a gift, saying she'd wanted to invest in property in the Caribbean for short-term rentals.
READ MORE: Jamie Costa's Robin Williams impersonation will give you goosebumps
"My love," her Instagram post began. "For a hot minute now I've been telling Set that I really want to invest in short term home rental properties in the DR and other Caribbean countries (since people vacation all year around in those locations), but I felt like he didn't agree with me and would rather put money into other investments."
"Well, I was wrong 🥳. I just can't believe this 🥺! This was sooo amazing to me," her post continued.
"For one, I'm so happy that you were actually really listening to me and not just smiling and nodding your head so I could stop talkin to you about it 😂. Two, you don't think my investment ideas are wack 😩 and three, I love that you asked my dad to work with you on this."
Cardi went on to praise her father, as well as Offset and their two children — the couple share three-year-old daughter Kulture Kiari and a six-week-old son, whose name has yet to be revealed.
READ MORE: Shameless star dies aged 40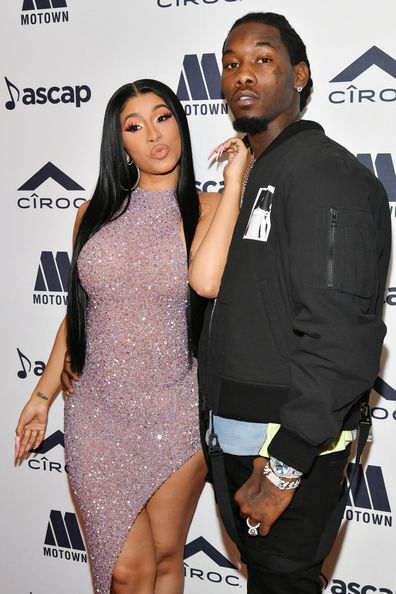 "You and my dad (and the 🤱🏽) are the most important men in my life and it makes me so happy that you guys are close and have your own bond and relationship," Cardi shared.
The Grammy winner added: "I ♥️♥️ you so much and I can't wait for this hangover to go away so I can show you my full appreciation 😈😈."
On Monday, October 11, Cardi rang in her 29th birthday with a lavish party. Offset later shared photos from the event via his Instagram.
"Happy birthday Mrs. Cephus," Offset — born Kiari Kendrell Cephus — captioned his post. "I love you so much I value you so much u giving me 2 great life's great energy you have my back when anybody goes against me since the day I met you I loved you!! Great mother hard working hustler you never settle you're funny and encouraging Thank God for you 🙏🏾."
Cardi B and Offset, who have split and reconciled more than once, secretly married in September 2017 and got "engaged" on stage a month later.
For a daily dose of 9Honey, subscribe to our newsletter here.