Entertainment
Andy Cohen Reveals Least Favorite 'Husband' on Real Housewives, Cringe Question to Oprah, & Jill's 'WWHL' Conspiracy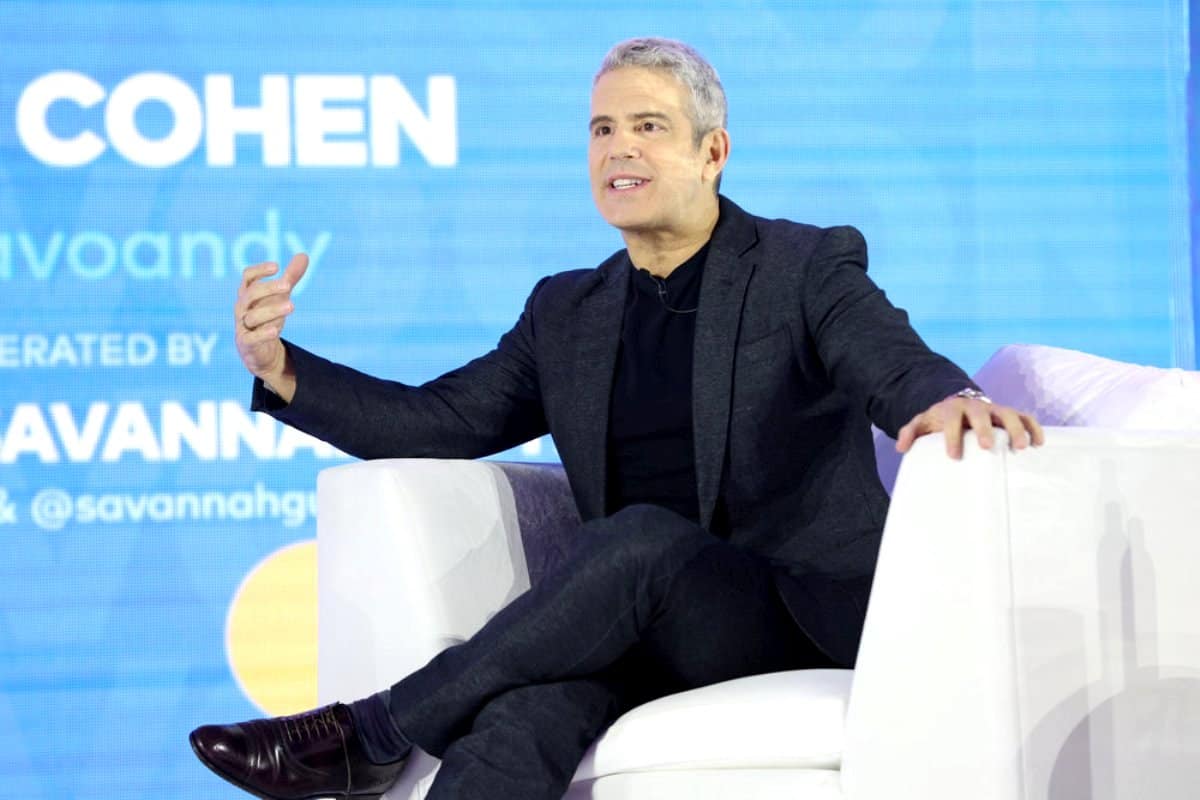 Andy Cohen was asked about his most shocking moment on Watch What Happens Live on Friday during an "Ask Andy" panel at BravoCon.
Before revealing which Real Housewives husband is his least favorite, dishing on staying neutral with cast members, admitting to getting ultimatums, and revealing what he nearly asked Gwyneth Paltrow about her exes on WWHL, Andy said one of the most surprising questions that ever came out of his mouth was asked of the talk show queen herself.
"When I asked Oprah if she'd ever swam in the lady pond… I asked it so poorly, I had just come off the greatest half-hour with Oprah. We're running out of time, and I'm about to do the Mazel of the Day. And I decide, 'Let me throw this out now.' Maybe I'll throw a bomb out," Andy recalled during the panel. "[And] she goes, 'No.'"
Moving on to the Housewives, Andy said that when it comes to cast members getting fired, they "really have to piss the audience off."
He then gave the honor of his all-time least favorite househusband to Jim Marchese, of The Real Housewives of New Jersey's lackluster sixth season, which Andy defended, saying that he and his team "tried" to make it work and noting that it was a "rebuilding year."
"The husband of [Amber Marchese]," he revealed.
As for the ultimatums he's received from the ladies of the show, Andy confirmed there have been cast members who've "tried to do that" or "who've said, 'I won't come back to the show if this person's on it.'"
"It doesn't really work. But I think, and especially in the early years, there were times when people would say [they won't come back]… [But we'd say], 'Well, this is the group,'" he explained.
Over the years since the successful franchise premiered on Bravo in 2006, many Housewives have come and gone. And while many cast members of the show have access to Andy's cell number, not everyone does.
"Most Housewives have my cell number. Some of the newer cities do not. We DM," he shared.
After confirming that there was no footage of Kathy Hilton's meltdown captured for The Real Housewives of Beverly Hills, Andy admitted that he's gotten more opinionated in recent years, saying he was "really biting my tongue way more" in the earlier years, and revealed that Real Housewives of New York City alum Jill Zarin was once convinced of a WWHL conspiracy.
"Jill Zarin thought that the polls were rigged and we were in cahoots with AT&T like, she had a whole conspiracy theory, and I'm like, 'We're not rigging the polls. I don't know how to rig a poll,'" Andy laughed.
As for the question he planned to ask but didn't ultimately ask Gwyneth, Andy said it was about her former flames.
"There was a question where I was like, 'How would your mom rank your exes in order, Ben Affleck, [Chris Martin], or Brad Pitt?' Because she has great exes. And I was like, 'She already pled the fifth, I don't think this is a good idea… So I didn't ask it," he recalled.
When Andy was then asked about Real Housewives of Salt Lake City star Jen Shah changing her plea to guilty in July after previously claiming she was innocent of money laundering and fraud, charges she was dealt due to an alleged telemarketing scheme, he said he was quite surprised.
"Yes, very much so, especially since we'd been watching early cuts of the season where she was obviously very firmly proclaiming her innocence," he explained. "So I think that it has cast a very interesting shadow on watching this season."
Also, during the panel, Andy admitted that he's witnessed a number of cringe-worthy moments on the Real Housewives, namely between family members and close friends.
"When things get real between families, there've been times [on RHONJ], and there've been times [on RHOBH] where the discord, it's hard to watch, and it's not something you want to see, and you certainly don't want to think the show accelerated it or exacerbated it," he noted. "I will say I never liked seeing good friends come apart."
"[Bethenny Frankel] and Jill.. Before season three," he continued, "I remember Jill was like, 'I'm so mad at her.' And I was like, 'What? No!' I was like, 'Make up. We're about to start shooting.' I don't like seeing [Heather Gay] and [Whitney Rose] fight. I love them together, so to me, there's certain friendships we love."
"[Dr. Jackie Walters] and [Dr. Simone Whitmore]," he added, "I love them together."
File source